Beauty. History. Sacredness. When you're thinking about a location for your wedding, commitment ceremony, civil marriage blessing, or renewal of vows, consider all the advantages of historic Emmanuel Church. A short walk from the Boston Public Garden and halfway along the first block of Newbury Street, we offer our elegant Back Bay venue for that special day.
We are proud that Emmanuel is an open church. We invite all to be present with us, regardless of religious affiliation. Emmanuel is also a leader in welcoming and celebrating same-sex marriages. Our first such event took place nearly 30 years ago! Clergy of all denominations may officiate here, in addition to Emmanuel's own clergy, who are available to you upon consultation.In recent years, Emmanuel has been delighted to host a number of inter-faith weddings, together with our partners at Central Reform Temple as well as rabbis, priests, and ministers from a variety of religious traditions. We welcome couples of all faiths and none to celebrate their marriage in our beautiful church home. Emmanuel's organist directs all music at weddings and other ceremonies.
For reviews, local hotels and more images, please see our pages on TripAdvisor, Yelp, and The Knot.
Just behind the arched doorways at 15 Newbury Street are two superb spaces favored by generations of Bostonians, beginning in Victorian times and continuing through the present. If you'd like to see the Lindsey Chapel or Sanctuary in person, contact our Administrative Assistant to schedule a tour.
The Leslie Lindsey Memorial Chapel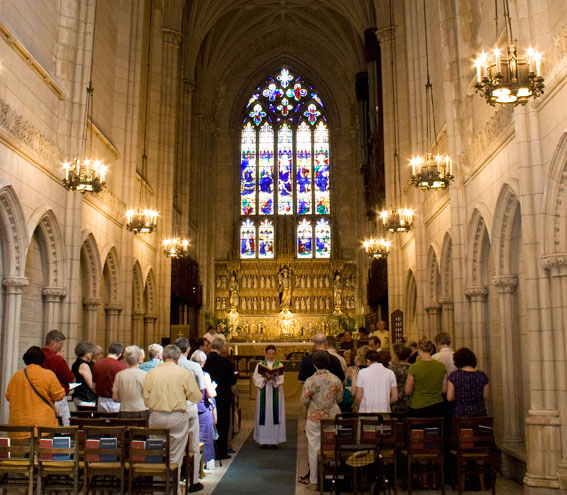 The Lindsey Chapel holds pride of place as a Back Bay architectural jewel. Built specifically as a Lady chapel and memorial to Leslie Lindsey Mason, it seats about 125 people. For images of its windows, architectural details, and an index to the rich array of saints portrayed in it, please see our History of the Lindsey Chapel.
Our Sanctuary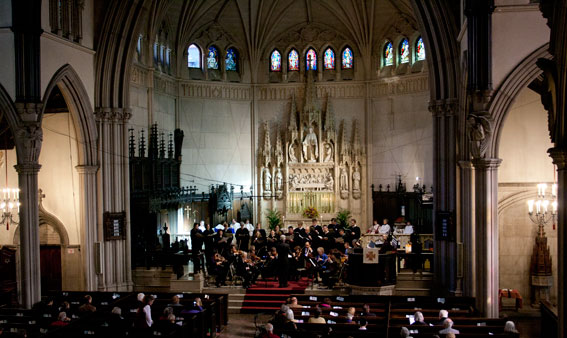 With stone angels gazing down from the pillars and stained glass windows casting rainbow light all around, this majestic space is glorious to behold. The spectacular Emmanuel's Land Window, rededicated in 2008 after a three-year restoration, occupies a prominent spot high on the left side of the nave.
This, Emmanuel's largest area, seats more than 500 people. Its excellent acoustics draw countless musical and performing organizations year round from our city, region, and overseas.
Planning a ceremony? Do consider our magnificent worship spaces. They are certain to amaze and delight you. See more images of our spaces. View our wedding guide, which contains answers to most commonly-asked questions. To schedule a visit to 15 Newbury Street or to find out more information, email our wedding coordinator.
Photos in the top banner are by Dan Nystedt and in the right sidebar by Rosaly Alexander.