The abrupt closure of the Long Island Bridge by the City of Boston in October 2014 destroyed the safety net for more than 700 clients of the city's largest complex of public and privately-funded services for people without housing and people struggling with addiction. Additionally, their service providers were suddenly without work, equipment, business records, and medical records for their clients. This was followed by Boston's snowiest winter on record, with more than 108 inches of snow recorded between December 2014 and March 2015.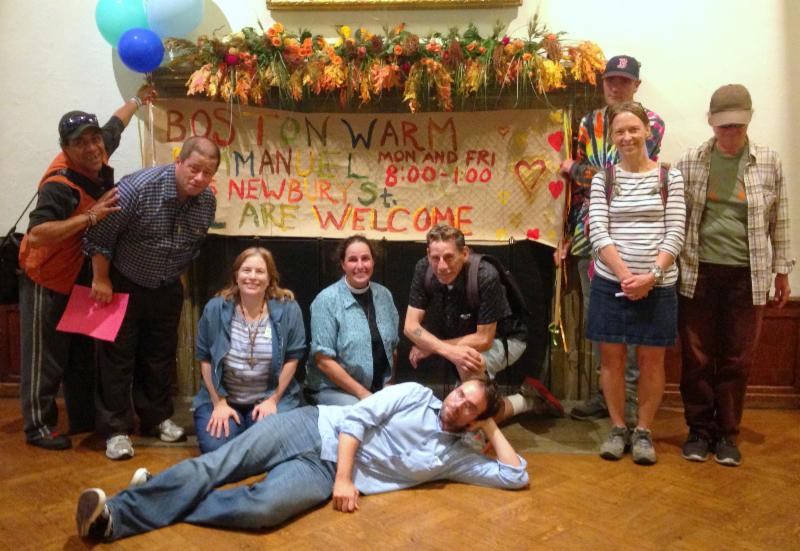 In response to the crisis, religious leaders from more than 65 institutions around Boston launched a collaboration called Boston Warm. This year, for the second winter in a row, Emmanuel Church is providing an emergency relief day center in our parish hall, extending hospitality to people in need of relief from the cold and warming the hearts of guests, volunteers, staff and other supporters.
The program is coordinated by Ecclesia Ministries (common cathedral) on Mondays and Fridays from 8 am to 1 pm. Financial support and other donations are welcome and necessary to enable us to keep the shelter open through the long winter months.
Guests have said they like Emmanuel because of our spacious facilities and welcoming staff and volunteers. We provide snacks and coffee on Mondays and a warm lunch on Fridays. We are still in need of volunteer staff. If you are interested in supporting this program in any way, please contact Amanda March at parishadminemmanuel@gmail.com.
Please send donations 
Checks with a note for Boston Warm to Ecclesia Ministries, P.O. Box 51003, Boston MA 02205
Funds through PayPal at  Boston Warm's website.
Other items to our Parish Hall:
Adult-sized socks, coats, hats, gloves, and mittens
Fig newtons or packages of oatmeal
Ground coffee, sugar packets, creamer
Paper goods (Coffee cups, plates, napkins etc.)
Bottles of water
Fruit
Sandwich supplies (bread, luncheon meat, cheese, mayo, etc.)
Puzzles, board games, playing cards
Relatively recent magazines, books