Thanks to the generosity of the George B. Henderson Foundation, our window given in memory of Marian Burnham, which was broken by firefighters during the fire of 2000, has been restored by  Matthew Fallon of Serpentino Stained Glass Studio. The Rt. Rev. Gayle E. Harris, Bishop Suffragan, rededicated it on Feb. 26, 2017 with many Burnhams descendants present.
Marian Burnham, 12-year-old daughter of parishioners William Appleton Burnham and Alice Monroe Burnham, had drowned in Lake Champlain on August 9, 1896. He had taken Marian to visit the daughters of Charles H. Head at their summer home in Westport NY.  Maggie Toomey, a 20-year-old Irish nurse of the children of Washington B. Thomas, also died in her heroic attempt to save Marian.  According to the Boston Daily Globe (August 11, 1896), Maggie had immigrated from Ireland nine years before and left ten siblings, some of them in Cambridge MA and others with their parents in Ireland.  Both she and Marian were able to swim.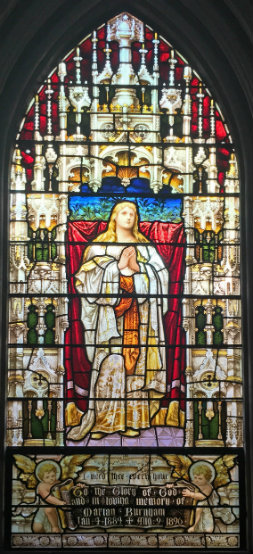 Designed by the English firm of Heaton, Butler & Bayne, our window was installed in 1897.  The inscription "I need thee every hour" is the first line of a hymn by Annie S. Hawkes.  The identity of the central figure is a mystery.  Could she be allegorical or represent Marian as an angel or perhaps depict Mary Magdalene?  We await further research.
Nearly fifty percent of our window was destroyed in 2000. Many thought reconstruction impossible, but through painstaking work Matthew Fallon at the Serpentino Stained Glass Studio succeeded. Having studied photos of the window and others by Heaton, Butler & Bayne, he hand painted and kiln fired more than a hundred pieces of glass. He combined them with the surviving sections and shards of the original window to make it whole again. We express our gratitude to him and all involved with this inspiring project.
Two other windows were given in Marian's memory.  A triptych with Marian depicted in its center lancet, designed by Heaton, Butler & Bayne, was given in 1901 by her godparents Amos Lawrence Hopkins & Maria Teresa Burnham Dodge Hopkins to St. John's Church, Williamstown MA.
A window with two child angels designed by Tiffany Studios was given by the Burnhams to their summer parish, St. Saviour's Church, Bar Harbor ME, where Marian had sung in the choir for several summers.  Its inscription is from the penultimate verse of Cardinal John Henry Newman's The Pillar of the Cloud:  "And with the morn those angel faces smile, which I have loved long since, and lost awhile!"  Thanks to Edwin Garrett for this image and information.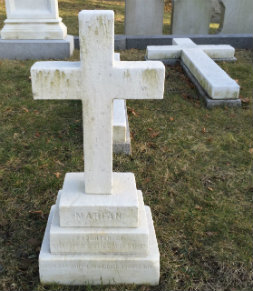 Marian Burnham is buried in Cambridge at Mt. Auburn Cemetery next to her parents in the Burnham plot on Pyrola Path.