The stained-glass triptych in our lobby, installed in 1920, was created by Henry Wynd Young (1874–1923). St. Micheal (on the left) and the Archangel Gabriel (bearing a scroll inscribed Deo Judice, meaning God judges) flank the memorial panel. Dated 1914-1918, it displays the shield's of America's allies:  Britain, France, Italy, Belgium, Serbia and Japan. On either side, inscribed in stone are the names of parishioners lost in the Great War: Oric Bates, Ezra Charles Fitch Jr., Edward Hooper Gardiner, Prescott Wilder Gould, Harold Brittan Klingman, Samuel Pierce Mandell, Davidge Warfield Patterson, Edward Hale Perry, Nathan Stone Simpkins Jr., Kenneth Weeks, Lawrence Barrett Williams, and Richmond Young.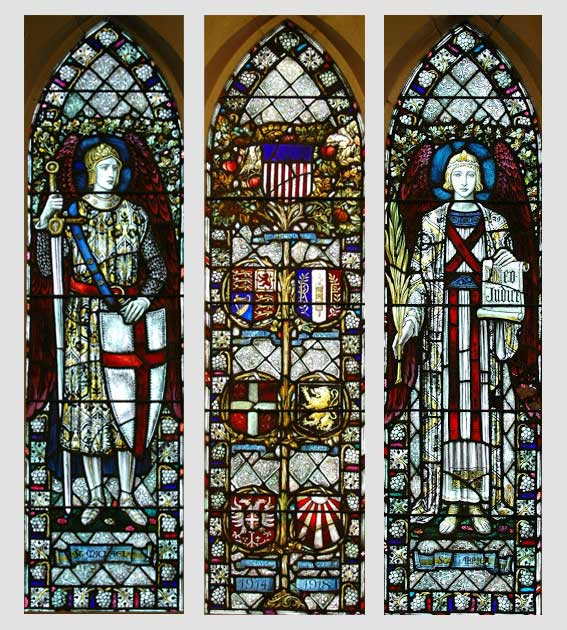 Please contact our Parish Historican Mary Chitty at website@emmanuelboston.org if you know anything more about our fallen heros.
Thanks to Harvard's Houghton Library for the images below and to John Mears, who did the research.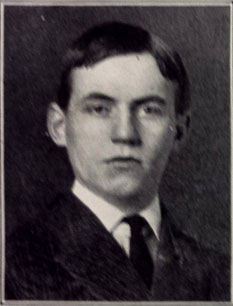 Oric Bates, born 12/5/1883, attended the Noble & Greenough School and Harvard.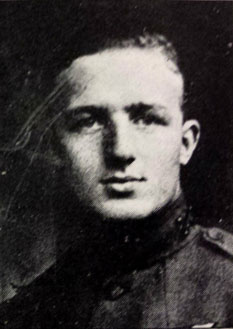 Edward Hooper Gardiner, born 5/14/1896, educated at the Berkshire School and Harvard, joined the Aero Squadron, and died 9/12/1918 in France.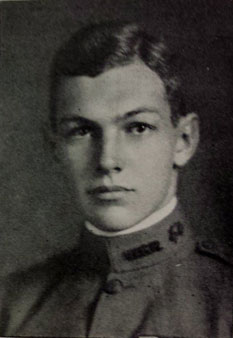 Samuel Pierce Mandell, born 3/20/1897 at Berkeley MA, attended St. Mark's School and Harvard for two years. He became First Lt., Aviation in 1917 and died Nov. 5, 1918, in the Argonne Meuse sector of France.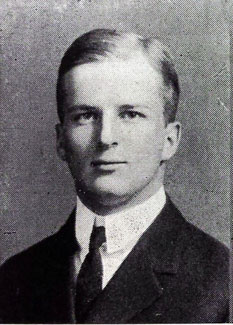 Edward Hale Perry was born in Boston on Jan. 23, 1887. He attended Noble & Greenough School and Harvard.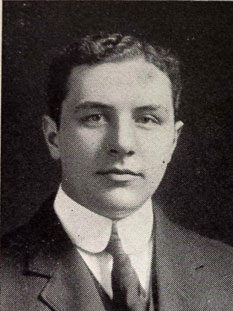 Nathaniel Stone Simkins, Jr. was born Dec. 14, 1885, in New York City, attended St. Mark's School, and graduated from Harvard in 1909. He died of pneumonia on Oct. 22, 1918, at Verdun, France.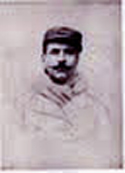 Kenneth Weeks (1889-1915), son of parishioners Andrew Gray & Alice Weeks, attended MIT. He moved to France in 1910 and enlisted in the French Foreign Legion in 1914. His mother published a book about him entitled Greater Love Hath No Man, which we have in our archives. A brass tablet on the western wall of our nave is dedicated to him.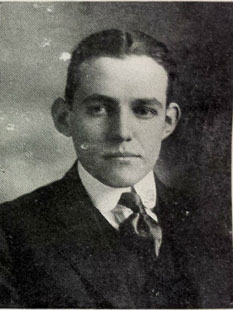 Richmond Young, born Sept. 13, 1894, attended Noble and Greenough School and Harvard for three and a half years before he enlisted.