Epiphany 2A, January 15, 2017; The Rev. Pamela L. Werntz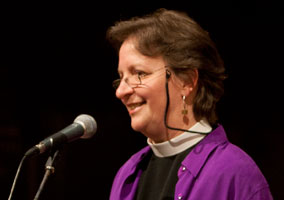 Isaiah 49:1-7 I will give you as a light to the nations, that my salvation may reach to the end of the earth.
1 Corinthians 1:1-9 God is faithful.
John 1:29-41 Here is the Lamb of God who takes away the sin of the world.
O God, manifest in us the strength, the wisdom and the courage to seek always and everywhere after truth, come when it may, and cost what it will.

Last week in our Gospel lesson, we heard Matthew's version of Jesus' baptism at the Jordan River. You might remember that I said that, according to Matthew, the voice that Jesus heard was an inside-out rather than an outside-in voice. Matthew was describing the bat kol – the voice of the Divine that sounds like the voice of a little girl, or the daughter of a voice, an echo. Matthew mentions that the heavens opened up to Jesus and a spirit of holiness landed on Jesus like a dove and he heard the voice of the Divine – the bat kol – saying this is my son, the beloved, with whom I am well pleased. Matthew does not describe this as a voice that any of the others who were there would have heard. Continue reading →