Twenty-first Sunday after Pentecost, 24B, October 18, 2015; The Rev. Pamela L. Werntz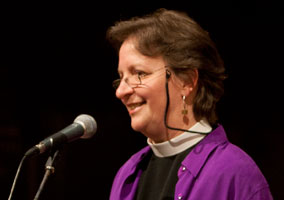 Isaiah 53:4-12 It was the will of the Lord to crush him with pain.
[Job 38:1-7, 34-41 Who.]
Hebrews 5:1-10 He became the source of eternal salvation for all who obey him.
Mark 10:35-45 For the Son of Man came not to be served but to serve.
O suffering God, grant us the strength, the wisdom and the courage to seek always and everywhere after truth, come when it may, and cost what it will.

Our Rabbi-in-Residence, Howard Berman, is fond of asking me whenever he preaches at one of our services, "Why do I always get the hard texts?" I say, I wonder the very same thing! Why do I always get the hard texts?" (I think the answer might be that they're almost all hard.) When it comes to the Isaiah reading, I'll admit that I did it to myself when I agreed to take a week away from our reading of the story of Job in the interest of Ryan Turner's request for the lovely Distler motet.
Continue reading →