Eighteenth Sunday after Pentecost, 21B, September 27, 2015; The Rev Pamela L. Werntz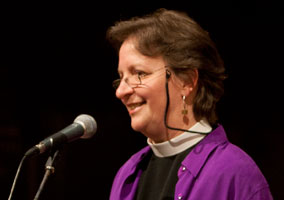 Esther 7:1-6,9-10; 9:20-22 Days for sending gifts of food to one another and presents to the poor.
James 5:13-20 Are any among you suffering? They should pray. Are any cheerful? They should sing songs of praise…
Mark 9:38-50 Have salt in yourselves, and be at peace with one another.
O God of our redemption, grant us the strength, the wisdom and the courage to seek always and everywhere after truth, come when it may, and cost what it will.

This morning we have just heard a part of the great story of Queen Esther, beautiful, brave, patient and smart, who used her position and her gifts, and risked her own life on behalf of her people. Esther's name appears more times than any other woman in the Bible, and she speaks more than any named women except for Judith. She is the ideal against which Herodius, in the Christian testament of the Bible, was compared and was found to have utterly missed the mark, when a king, intoxicated by wine and the beauty of a woman, offered to do anything she wanted. Queen Herodius coached her daughter to ask for murder. Queen Esther asked that all of her people be saved from scheduled massacre. The Feast of Purim, which celebrates Queen Esther's courage, compassion and creativity, is observed by Jews each year at the end of winter (in the Northern Hemisphere) with celebrations that include presents for people who are poor, and gifts of food for all. Continue reading →