The Seventeenth Sunday after Pentecost, Proper 20B, September 20, 2015; The Rev. Pamela L. Werntz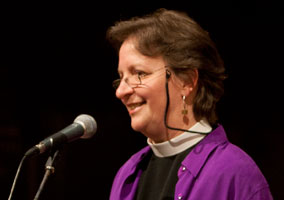 Proverbs 31:10-31 Give her a share in the fruit of her hands and let her works praise her in the city gates.James 3:13-4:3, 7-8 Show by your good life that your works are done with gentleness born of wisdom.
Mark 9:30-37 Welcomes…welcomes…welcomes…welcomes.
O God of radical welcome, grant us the strength, the wisdom and the courage to seek always and everywhere after truth, come when it may, and cost what it will.
Hello! I'm so glad you're here! Happy New Year! Part of the fun of living in an interfaith family like the family Emmanuel Church makes with Central Reform Temple is that we double our holidays! This sanctuary is still humming with the celebrations of the Jewish New Year that began last Sunday evening. So we enter this place today in the midst of the prayers of the Days of Awe – the high holy days between Rosh Hashanah and Yom Kippur. The themes of the Days of Awe are hope, reconciliation and repair – in individual lives and in the world – the Days of Awe are days of reflection, renewed commitment, and action. Continue reading →