Twentieth Sunday after Pentecost, 23B, October 11, 2015; The Rev. Pamela L. Werntz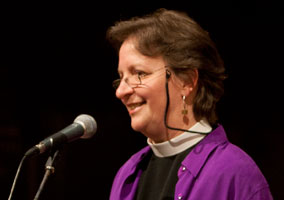 Job 23:1-9Today my complaint is bitter.
Hebrews 4:12-16 Let us therefore approach the throne of grace with boldness.
Mark 10:17-31 For God all things are possible.
O God of possibility, grant us the strength, the wisdom and the courage to seek always and everywhere after truth, come when it may, and cost what it will.

"Indeed, [according to Hebrews] the word of God is living and active, sharper than any two-edged sword, piercing until it divides soul from spirit, joints from marrow; it is able to judge the thoughts and intentions of the heart. And before God no creature is hidden, but all are naked and laid bare to the eyes of the one to whom we must render an account." Continue reading →