Emmanuel Church in the City of Boston has become increasingly like an interfaith family with our resident Classical Reform synagogue, Central Reform Temple of Boston. As a result, our clergy are supplemented by our Rabbi-in-Residence, Howard Berman, who preaches in our services approximately once a month.  
The Rev. Pamela L. Werntz, Rector
Pam is Emmanuel's 12th rector and first woman rector, and the first openly queer rector of an Episcopal parish in Boston. Throughout her career, Pam has worked diligently for social justice and support of the arts, particularly among and on behalf of people who are most marginalized in our society.  See our diocese's article celebrating 20 years of her prison ministry: The steadiness of showing up.
Pam received her A.B. in English from Franklin and Marshall College. She spent the following 15 years in the private sector, rising to Vice President of Human Resources in a large consulting firm in northern Virginia. In 1996, she migrated north with her family to attend Episcopal Divinity School in Cambridge, MA. She received her MDiv in 2000, and was awarded Lockhart Scholar for contributions to community life and the Dietrich Prize for best paper on the urban mission of the church.
Pam was ordained as deacon on June 15, 2002 and priest on May 31, 2003 in the Episcopal Diocese of Massachusetts. She served as Associate Rector at St. Paul's Church in Brookline, MA, July 2002-January 2008. Emmanuel Church called Pam to serve as Priest-in-Charge in February 2008, and as Rector in January 2010.
Pam and her wife Joy Howard have three daughters.

The Rt. Rev. J. Clark Grew, Senior Pastoral Assistant
Bishop Grew was born in New York City. He graduated from Harvard College and then served as a Lieutenant in the U.S. Navy for five years. Following active duty, he taught in two independent schools outside of Boston before entering Episcopal Theological School in Cambridge MA, from which he has received both a M.Div. and a Doctor of Divinity degree. Bishop Grew served as Rector of two parish churches, the first in Westwood MA and then in Lake Forest IL until he was elected Bishop of the Episcopal Diocese of Ohio in 1993. He retired from the active ministry in 2004, after over ten years of diocesan, national, and international Church involvement as Bishop. He has served on many non-profit and educational boards throughout his career, and currently serves as trustee of St. Mark's School in Southborough MA, The Epiphany School in Dorchester MA, the Episcopal Chaplaincy at Harvard, and The Maine Sea Coast Mission. He and his wife Wendy have three married children and eight grandchildren.

The Rev. Dr. Frederick Stecker, Priest Associate
The Rev. Dr. Frederick Stecker has taught at Colby Sawyer College and the Boston Graduate School of Psychoanalysis.  He holds degrees from the Bangor Theological Seminary, Virginia Theological Seminary, the Institute for the Study of Violence at the Boston Graduate School of Psychoanalysis, and the University of the South. Among other ministries, he has served as priest-in-charge in NC, rector in New London NH, and assistant to a bishop in the Virgin Islands. He preaches at Emmanuel and assists our rector with pastoral care. Rick and his wife Ann Page live in Cambridge and New London NH. In addition to numerous articles, he has published two books: The Podium, The Pulpit and the Republicans: How Presidential Candidates Use Religious Language in American Political Debate (Santa Barbara CA: Praeger, 2011), and I Win, We Lose: The New Social Darwinism and the Death of Love and Other Writings by John Hall Snow (Eugene OR: Wipf and Stock, 2016).
Rabbi Howard A. Berman, Rabbi in Residence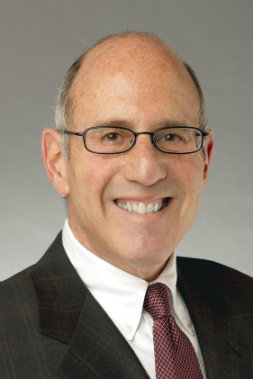 Rabbi Howard A. Berman is Founding Rabbi of Central Reform Temple. He is also Rabbi Emeritus of Chicago Sinai Congregation, Chicago's historic center of liberal Reform Judaism, having served as Senior Rabbi since 1982.
He was born in Fair Lawn NJ, where he received his early religious and general education. After attaining his undergraduate degree in European History from the Universities of Cincinnati and London, England, he studied for the Rabbinate at the Leo Baeck College in London, the Hebrew University in Jerusalem, and the Hebrew Union College in Cincinnati, where he received the degree of Master of Hebrew Letters and was ordained in 1974.
Rabbi Berman has been active in various religious and civic organizations both locally and nationally. In 1986, he was appointed by the late Mayor Harold Washington to the Chicago Peace Conversion Commission, charged with drafting and enforcing the city's Nuclear Free Zone Ordinance. From 1989-1996, he served on the faculty of the Lutheran School of Theology in Chicago, and has also served on the Social Action Committee of the Chicago Board of Rabbis; the AIDS Pastoral Committee of the Council of Religious Leaders in Chicago; and the Leadership Council of the Howard Brown Memorial AIDS Clinic. From 1992-1996, Rabbi Berman represented the Chicago Jewish community on the Metropolitan Task Force of the Council for the World Parliament of Religions, and served on the Board of Directors of Planned Parenthood of Chicago from 1994-1996. In addition, he has been an annual contributor to the World Book Encyclopedia Year Book as editor of its articles on Judaism.
With his decision to move to Boston in 1997, he became Rabbi Emeritus of Chicago Sinai Congregation. Currently, he is active in a variety of civic and interfaith organizations in Boston. He was the Founding Co-Chair of the Religious Coalition for the Freedom to Marry in 1997, and has regularly officiated at the annual Gay Pride Service at the New England Holocaust Memorial. As part of the partnership between Central Reform Temple and Emmanuel Church, Rabbi Berman serves as "Rabbi in Residence" of the parish and preaches regularly at Sunday worship services. Rabbi Berman also serves as Executive Director of the Society for Classical Reform Judaism, a national organization dedicated to promoting the historic liberal principles and distinctive worship traditions of the American Reform Movement. He lectures at congregations throughout the country  on behalf of the SCRJ, and teaches regularly at Hebrew Union College, the major seminary of Reform Judaism, at its campuses in Cincinnati and Jerusalem.