Voices is the newsletter of Emmanuel Church. Our latest issue explores some of the ways people at Emmanuel pay attention to the world around them. View any of the complete issues of Voices to the right. They are in a PDF format and will open in a new window. Feel free to download them to your computer. You may also read selected articles from issues past and present.
Paying Attention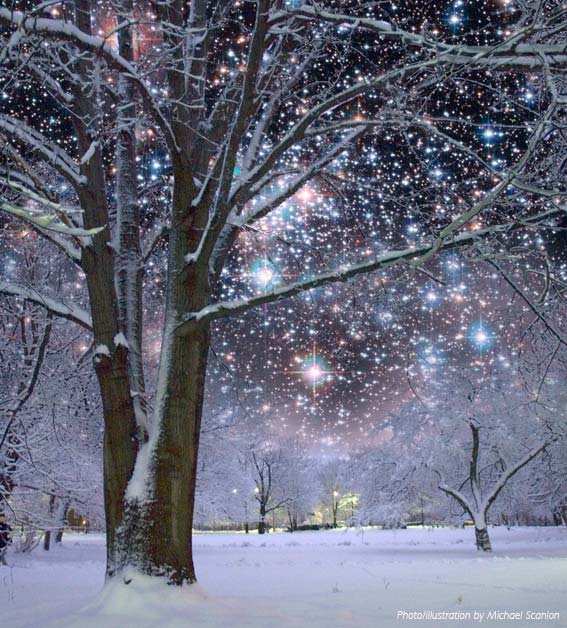 Letter from the Editor for Winter 2014
There are many kinds of attentiveness: living in the moment; taking care of people in need; listening closely; supporting a beloved institution… In this issue we explore some of the ways people in our community pay attention.
Sometimes paying attention means looking up. The illustration on the cover is by Michael Scanlon. It reminds me of the beauty of winter, and the wonder of stars. Pam Werntz and Jaylyn Olivo, two of our muses, contribute reflections on paying attention. Pam offers one of her favorite poems about what we want from God and what we get. Jaylyn muses about "free form" prayer.
Shan Overton writes about her recent trip to Uganda with her usual sensitivity. Her description of her own journey from expectation to recognition of a small voice is touching. James Fox contributes a wonderful piece about a very attentive cat, and Carolyn Roosevelt's "Any Good Books" reviews a story of a father's attention to his autistic son.
Art always requires special attention. Tom Barber, a physician and hospital administrator, is attentive to the people he serves, and his piece "A Hopeful Autobiography" is written in appreciation for one of the patients who died in his care. Martha Tucker's piece about awareness starts as a prose poem that cannot be contained within sentences, and expands into exultant streams of verse. We are all blessed with the musical artistry of Nancy Granert. Another dimension of artistry is evident in the illustration on page 8.
Frank Bunn's report on the Emmanuel Center's discussion series about Science and Spirituality gives a glimpse of the first meetings of this very popular series.
Our Parish Operations Manager, Keith Nelson, will be leaving Emmanuel the week of January 19. Pam gives details of Keith's departure and our new administrator, Tamra Tucker.
I am very grateful for the leadership of the Vestry and its committees. They pay attention to Emmanuel – the people, the staff, the finances, the programs, the building, and more. Vestry member Jim Bartlett reports on the Development Committee, which seeks to ensure Emmanuel's wellbeing now and in the future.
John Mears is passionate about books, and he starts a conversation about one of the latest books to "acquire" him. As always, I am delighted and very lucky to work with Matt Griffing, our very talented and very busy graphic designer.
I hope that these pieces bring you inspiration and that by paying attention you find deep meaning and joy.
– Margo