Second Sunday after the Epiphany (C), January 17, 2016; The Rev. Pamela L. Werntz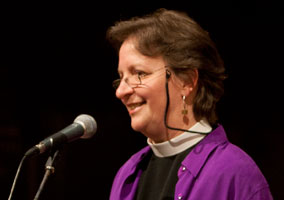 Isaiah 62:1-5 Your land married for the Lord delights in you and your land shall be married – so shall your God rejoice in you.
1 Corinthians There are varieties of gifts.
John 2:1-11 First of his signs…revealed his glory…his disciples believed in him.
O God of justice, grant us the strength, the wisdom and the courage to seek always and everywhere after truth, come when it may, and cost what it will.
By now many of you have seen the news of the Anglican Communion. This past week the Primates of Anglican and Episcopal Churches around the world met in England to talk about marriage in the Church. While I don't want to make light of the lives that are at stake with regard to treatment of LGBT people all over the world, it does strike me as a little funny that leaders of our particular expression of church have been arguing about marriage since King Henry VIII. As luck (or the Holy Spirit) would have it, we have three scripture readings teed up for our prayerful consideration on this Second Sunday after the Epiphany that have some things to say to us about discerning a way forward with generosity and humility, with compassion and hope. Continue reading →