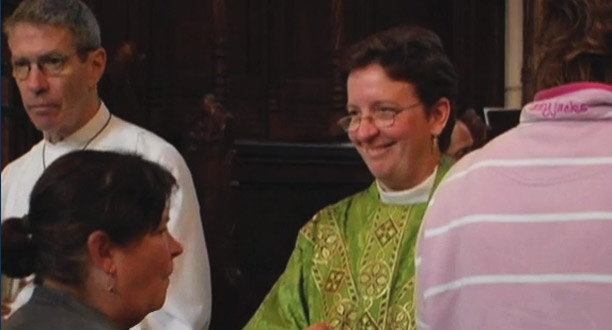 Come and experience worship, where traditions meet thoughtful contemporary perspectives and world-class music. Join us Easter Sunday, April 20, when Emmanuel Music will perform Bach Cantata 134: Ein Herz, das seinen Jesum lebend weiß [A heart that knows its Jesus is living] as part of our service of Festival Eucharist. The Newtowne Morris Dancers will perform immediately after the service in front of the church on Newbury Street.
Join us for any or all:  Palm Sunday, a Passover Seder, Tenebrae, Maundy Thursday, Good Friday, the Great Vigil of Easter, and Easter.  Please see our Events page for details.
Thanks to a generous grant from The Lilly Foundation, while rector Pamela Werntz travelled bodily, artistically, and spiritually during her recent sabbatical, those of us at Emmanuel also had many opportunities to explore Spirituality and the Arts. A collaboration with Lesley University's Expressive Arts Therapy program seemed like a perfect means of enriching the church's mission for using the arts as vehicle for healing and spiritual growth.
Read more →

A Season of Rest & Refreshment
Between March 1 and May 31, our Rector, the Rev. Pam Werntz, was away on a restorative sabbatical while Emmanuel Church engaged in refreshment and renewal activities designed to be integrated with the sabbatical. The theme of this renewal time came from reflecting on the spiritual connections between Miriam the Prophet (Moses' sister), Miriam of Migdal (Mary Magdalene, the Apostle to the Apostles), our own call to prophetic witness.
Read more →

"Book officiant." That's what all the bridal magazines told me to do at least nine months before the wedding.
To be honest, with a year to plan I'd been more preoccupied with short ribs or halibut, buttercream or fondant, than with deciding who would perform our ceremony. But somewhere between selecting mini crab flautas to be served during cocktail hour and corn bisque for a starter, I realized the menu shouldn't be my top priority. For the first time, Eric and I would have to explicitly address our different religious backgrounds and decide how Judaism and Christianity would factor into our life together.
Read more →

During a worship service a while back, the chorus of Emmanuel Music sang a motet "Der Herr denket an uns," which is #9 in Johann Hermann Schein's "Israels Brünnlein" collection. The text is from Psalm 115, verses 12–15. I sat there in my usual spot in the third row, soaking up the beauty in my usual way—not following along in the program but just watching the singers, players, and John Harbison's conducting dance. And listening. Listening with a ferocious desire for bigger ears so I could take in this miracle of sound that we call music.
Read more →

Our building is a home and resource for a dynamic group of programs and organizations who partner with us to preserve this historic structure and project our ideals of justice, spirituality, and art into the community of the Boston metropolitan area.
Read more →